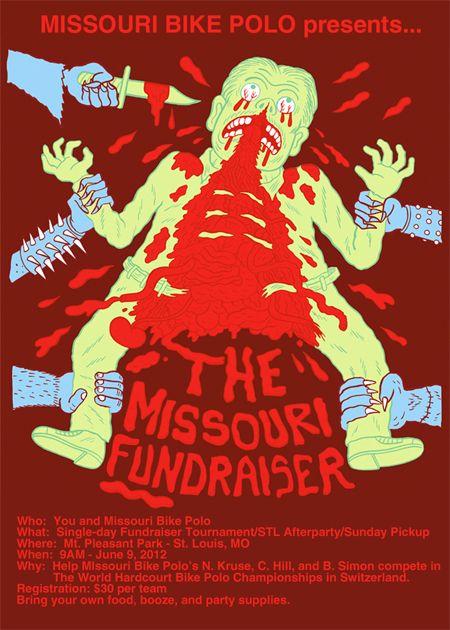 Missouri Bike Polo is planning to help N. Kruse, C. Hill, and B. Simon get to Geneva, Switzerland for the World Hardcourt Bike Polo Championships.
In an attempt to help dent the cost of traveling to Switzerland to represent the great state of Missouri, we are hosting a fundraising tournament on the 9th of June.
The tournament will be a single-day tournament with several Swiss rounds followed by a single or double elimination tournament. The tournament will probably be capped at around 24 teams, but if more teams want to make the trek to St. Louis, we can divide up the teams and spread out across the city's multiple roller hockey rinks.
There will be parties on Friday night and Saturday night. And there will be pick up games all day on Sunday.
Registration is $30 a team, and that fee goes directly into a pot that will help Nick, Charlie and Ben travel across the pond.
Other twists and fun will be had throughout the tournament (You won't have to trade any players, but you may be able to buy goals before the start of your games).
If you are interested in bringing a team to this fundraiser tournament, please send an email to ben.simon.stl(at)gmail(dot)com with the following information:
Team Name: __________
Teammate #1 Name: __________
Teammate #2 Name: __________
Teammate #3 Name: __________
Other details will be announced as the tournament approaches.
Last edited: Wed, 02 May 2012, 09:14pm by Uncle Jesse
---
"I'm a superstar in this sport, and I expect to be treated like one."